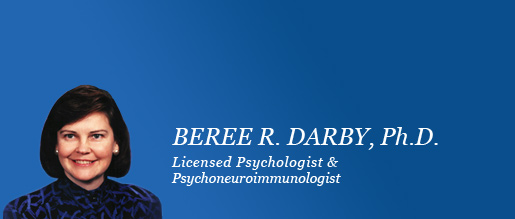 INTRODUCTION
Beree R. Darby, Ph.D. is a dynamic figure in the emerging field of mind-body medicine. The impetus behind her work is a firm conviction that physical well-being is inextricable from healthy cognitive processes. She works with clients to achieve optimal health and performance by helping them to bring awareness to the delicate relationship between mind and body. Dr. Darby is a scientist, a psychologist and an educator whose philosophy for achieving total health is based on proven research, spiritual wisdom and genuine compassion.
With a background in biochemistry, immunology and psychology, Dr. Darby has intellectual insight into both the physical and psychological components of human health and performance. The wide breadth of her academic training led her to forge a specialty in the field of psychoneuroimmunology. This combination of scientific and psychological disciplines allows her to approach healing as a process that integrates every aspect of the individual-the most effective means of creating sound, sustainable health.
Throughout the course of her academic career, Dr. Darby excelled as one of the finest minds in her field. As an undergraduate, she was selected as one of only fifty students in the nation to participate in research on the DNA molecule at Argonne National Laboratory in Chicago, Illinois. After graduating with high honors, she received a full scholarship to attend the graduate program at Purdue University. She earned a Master's degree in biochemistry in only one year. By the time she was admitted to the University of Florida's Ph.D. program in counseling psychology, she was already fully immersed in research with the University's research faculty in the departments of surgery pathology, and pediatrics. Additionally, she conducted research in the areas of kidney transplantation, cancer recovery and the immune response gene and was presented with an Outstanding Performance Award for establishing a biochemical laboratory to isolate a bone cancer antigen in human blood.
Given the fact that her dissertation research was the first to biochemically demonstrate that psychological intervention can improve the immune system response, it is unsurprising that Dr. Darby was later asked to write an article on psychoneuroimmunology research for The Encyclopedia of Complementary Health Practices. She has numerous publications from her immunology and psychological research, including a book chapter in Neuroimmunology on her research.
Dr. Darby is an intriguing lecturer whose presentations on mind-body healing have captivated audiences in universities, medical facilities and related conferences around the world. Whether addressing physicians, students or the general public, Dr. Darby earns the respect and admiration of every audience with her astounding research findings and warm disposition. She is an internationally recognized figure in the field of psychoneuroimmunology and devotes a significant amount of time to lecturing in venues all over the United States and Europe.
Dr. Darby is in private practice in Gainesville, Florida where she specializes in health related issues, treating people recovering from cancer and other immune system related disorders with remarkable success. In the arena of performance enhancement, she has worked with athletes who later went on to win world and national championships and Olympic medals. Her clients range from fortune 500 company presidents to NCAA champions. She hosted the Phoenix-based radio show "Optimal Health with Dr. Darby" featuring a lineup of guest speakers that included Dr. Bernie Siegel (Love, Medicine & Miracles), Dr. Norm Shealy, (World's expert in pain control), John Gray (Men are from Mars, Women are from Venus), and Dr. Joan Borysenko (Minding the Body, Mending the Mind). Additionally, Dr. Darby is employed as a psychologist at the University of Florida and is an affiliate member in the department of Counseling Psychology.